Brackenridge House Favorite Recipes
Sausage and Tomato Tart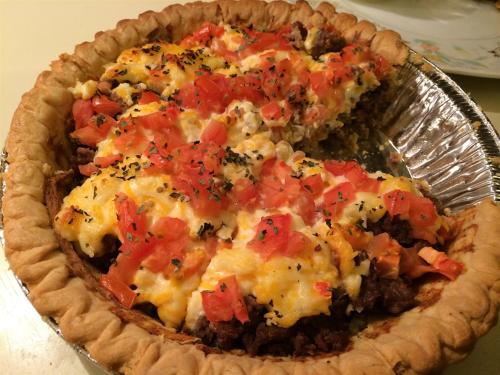 1 Tablespoon Dijon mustard
1 frozen 9-inch deep dish pie shell
1 pound bulk pork sausage
1 large tomato chopped
1 Tablespoon chopped basil (fresh or from the spice rack
1 cup grated Cheddar cheese
¼ cup mayonnaise
Preheat oven to 400 degrees. Spread the Dijon mustard in the bottom of the pie shell. Pierce with a fork as for a cream pie Bake for 12 – 15 minutes. Remove from the oven and reduce heat at 350 degrees.
Meanwhile brown the sausage in a skillet, breaking it up as it browns; drain well and cool. Put in bottom of the prepared pie shell and cover with chopped tomato; sprinkle with basil. Combine the grated Cheddar and mayonnaise and spread over the top.
Bake at 350 degrees for 30 minutes. Serves 4.
Apple Baked French Toast
1 CUP BROWN SUGAR - PACKED
½ CUP BUTTER
2 T. KARO SYRUP
6 EGGS
2 CUPS MILK
1 T. VANILLA
3 APPLES SLICED
1 FRENCH BREAD LOAF
Combine sugar, butter and corn syrup in a saucepan. Cook over medium heat, stirring constantly until mixture is bubbly.Pour syrup evenly into a lightly greased 13 X 9 X 2 inch-baking dish.
Slice enough apples to make a thin layer and maybe add some raisins. Put on top of brown sugar mixture. Cut bread into 1 or 1/2-inch cubes and put on top.
Combine eggs milk and vanilla. Gradually pour over bread. Cover and chill at least 8 hours. Bake, uncovered at 350 degrees for 45 minutes. Serve immediately sprinkled with powdered sugar and parched pecans